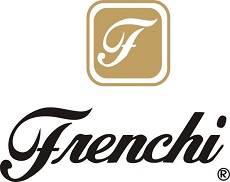 Frenchi Product
While creating this brand, the American company wanted to offer its customers easy to use yet affordable cosmetic products. 'Smart enamels' by Frenchiare used as the traditional nail polishwhile getting dry in a matter of seconds. The composition of the enamel is based on the nutritive elements, required to enforce the nail, improve their growth speed, making them shinier, and avoiding cracks and breaking.
Frenchibrand is well known among the customersand always represents the solicitous and sensitive nail care. The composition of 'smart enamel' is free from formalin and toluene. The main formula includes numerous natural ingredients, such as corn oil, vitamin R, apricot kernel oil, and alpha hydroxy fruit acids.
Bottles with the 'smart enamel' are made from durable transparent glassand offer special caps with a convenientsoft brush inside. Customers are able to see and evaluate the consistencyand the color of the enamel before buying it. Thanks to the informative approach to the communication with the customer, buyers all over the world are able to look at the packaging to know about the impact of the product on health, specific directions and advantages.