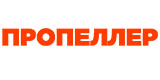 Propeller
This Russian brand offers a wide range of products for blemish-prone skin care. Products by this brand provide both cosmetic and medical effect. They don't form the habituation, and won't make the skin too dry. Products can be used to get rid of acne, blackheads, enlarged pores and excessive biological skin fat production.
Propeller offers the full range of products for people with problem facial skin. The product range includes various tonics, cleansing masks, andstrips, scrubs, foams, andgels, as well as special locally administering corrective gels.
The customer of any age is able to find the required products by Propeller. There is a total of six different product lines offered for the customers. Each of them is intended to address various skin imperfections, such as excessive biological skin fat production or frequent inflammations. It's worth noting that the product engineers work hard to offer new and more efficient solutions.
All cosmetic products of the brand are creating on the base of the most advanced achievements in the field of cosmetology and dermatology. The cosmetics arefree ofantibiotics and hormones.